AGH in Post-Katrina New Orleans
On September 16, 2005, AGH Director, Dr. Jennifer Conrad and several AGH volunteers arrived in Louisiana. They set up their aid-and-rescue operations in Gonzales, a city located between Baton Rouge and New Orleans in Ascension Parish. AGH brought medication and other veterinary supplies to the rescue facility there, which houses animals injured or displaced by hurricane Katrina.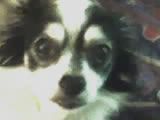 The AGH team rescued Professor Longhair (pictured above), an emaciated Papillon -- and one of many animals rescued by AGH that day. The Professor was lying on a porch in an evacuated New Orleans neighborhood near Rampart Street. "We heard a faint bark as we were trying to catch some cats nearby," said Jennifer Conrad, "He was so weak that he couldn't stand. His eyes and nose were encrusted. He was probably just a few hours from death." The Professor weighed a mere three pounds. Adult Papillons usually weigh over 10 pounds.
Lamar (above) is a puppy that was foraging in piles of garbage in an area near Bourbon Street. He was in better condition than Professor Longhair, but his ribs showed prominently through his filthy, matted coat. AGH volunteers, Gina and Sherman, were able to get him into their rental car and back to their motel.
Professor Longhair and Lamar did well after being re-hydrated, fed, bathed, and treated with antibiotics. Both are have homes now and are safe.
Donations are greatly appreciated to continue the work of Animal General Hospital. 100% of your donations go to the care of the animals. AGH relys on many unpaid volunteers.
To donate using a credit card or PayPal account,
please click the button below.
please e-mail us if you have any problems making a donation
If you prefer, checks can be mailed to:
Paw Project/Animal General Hospital
PO Box 445
Santa Monica, CA 90406
Animal General Hospital is a 501(c)(3) nonprofit organization.
All donations are tax-deductible to the fullest extent allowed by law.